You can purchase our indoor air quality services by contacting our office at 757-410-5678. If you have questions regarding our Indoor Air Quality products or services, please feel free to contact our customer service team.
Certification & Qualifications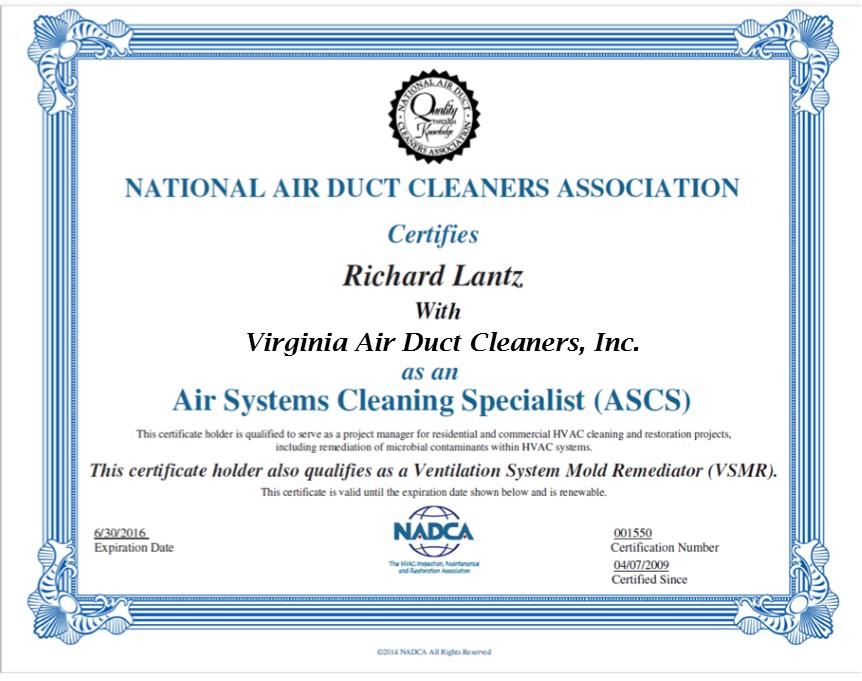 Our NADCA Certified Ventilation Inspector (CVI) and Air Systems Cleaning Specialist (ASCS) will be glad to discuss your IAQ concerns or interest and provide you with the information necessary to make informed decisions.
NADCA Air Systems Cleaning Specialist (ASCS) Candidates Guide.
Ventilation System Mold Remediator's (VSMR) are professionals in the HVAC inspection, maintenance and restoration industry who are trained with an understanding of basic microbiological contamination, project assessment, and how to apply NADCA and other industry standards to mold projects.
Candidates for the VSMR must hold the ASCS distinction, and must receive a passing score on the VSMR exam to become certified.
NADCA Certified Ventilation Inspector (CVI). Certified Ventilation Inspectors (CVI) have undergone training based on the Environmental Protection Agency's (EPA) I-Beam program for conducting building IAQ inspections. A passing grade on the certification exam demonstrates knowledge and understanding of inspecting HVAC systems, diagnosing IAQ problems, and reporting findings to the customer.